By
Usman Aziz
| April 22nd, 2009
OCZ has been producing a vast number of SSDs or Solid State Drives that are NAND based storage, which are expected to replace Hard Drives soon. Another unique addition to this is the Mini PCI Express SSDs which can give upto 32GB of storage, made primarily for netbook and notebook users, which have large storage space, without needing to compromise on installing power hungry hard drives.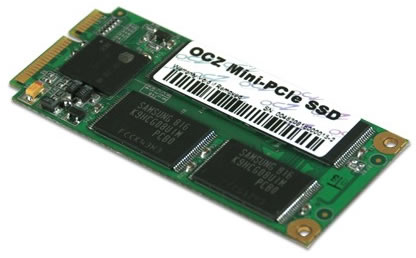 The drive will connect through the Computer's Mini PCI-Express Slot. It also has an advantage of producing faster Read and Write rates, which varies in SATA and PATA interfaces.

SATA:
Reading Rate: 110 MB/s
Writing Rate:   51 MB/s
PATA:
Reading Rate:  45 MB/s
Writing Rate:   35 MB/s
This rates are not as high as traditional SSDs Drives, yet, they'll offer great help in offering quick data access while have a small form-factor, which is the biggest issue with the large sized drives.
OCZ is not the only manufacturer producing such drives. Super Talent, Intel and Asus are among the few other companies which are also moving into the SSD Market. It's evident that as more and companies are moving into this large market, SSDs will be able  to reduce price and get a stronghold in the consumer market.
For a complete guide to performance improvements offered by Solid State Drives, please review our complete guide Here.