By
Usman Aziz
| January 18th, 2009
Nvidia has come up with its Ion platform which strikes its competitors hard. The new platform is supposed to make a revolution is the small form factor Computers. The package is in a 0.6L box containing the whole system which is quite able to run Windows Vista and Windows 7, HD Movies, and other applications as well.


The new platform consists of the following specs.
1. Intel Atom 330 Dual Core Processor at 1.6 GHz
2. Nvidia 9400M Graphics card
3. Nvidia MCP97 Chipset
4. Option for HDMI, DVI, VGA out displays.
5. High Fidelity 7.1 Channel audio
6. Full HD 1080 hardware acceleration
7. Gigabit Ethernet
8. Dual Channel DDR3 memory support
10. Total system Power Consumption of 18 W
The system replaces the built-in graphics from Intel which was unable to handle graphics Intensive task. With the new DirectX 10 Capable 9400M Graphics Chip, Nvidia's Ion platform is going to give 10x performance in visually intensive applications.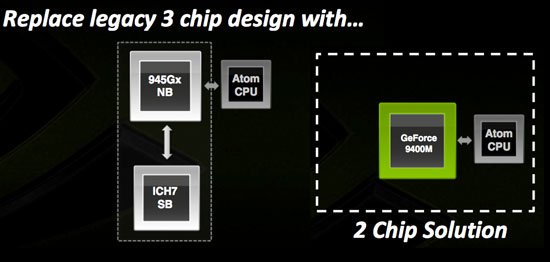 The platform gives 10 times more performance than its competitor, the Intel's Eee PC, while giving uncompromising HD Movie and visual experience with onboard DirectX 10 capable graphics chip.
Apple is among the first companies to start using this platform. It is reported that Apple will use Ion platform in their upcoming Mac Mini and Apple TV.
More Information about this platform can be seen here.