By
Usman Aziz
| July 21st, 2009
Intel is set to replace the current generation Intel Atom based Diamond valle platform for netbooks with their new Pine Trail platform. This new platform will offer updated graphics and power saving features.
The Pine Trail platform will include Intel's next generation Intel Atom processors which will include the graphics core as well as the memory controller inside the processor. This will reduce system complexity as well as offer high performance processor and graphics. Furthermore, the overall system power consumption will be reduced to give even higher battery timings.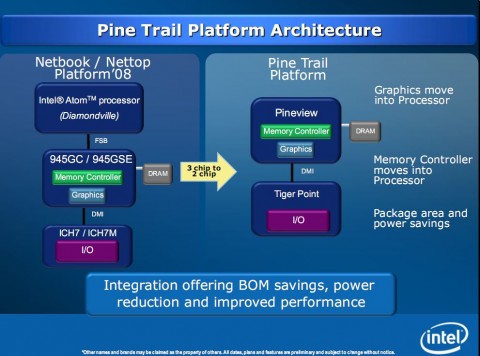 Another advantages is the reduced system size due to northbridge functions moving inside the CPU. The overall consumption of the system will be reduced to 7 W.
Intel has recently delayed the release of the Pine Trail platform to the first half 2010, which was first announced to be released in Q4 2009 to allow the existing netbook market to settle.
The new N450 Atom processor will be based on 45 nm process, and will replace the current generation N270/N280 processor. The price of this new processor is expected to be unchanged.